Jamestown Interactive
Jamestown Interactive highlights some of the newest project development at Virtual Jamestown. For example, using John Smith's maps and records as a guide, we have put together Flash maps of the Chesapeake area, allowing users to interact with Smith's voyages in a new way.
Copyright & Fair Use
For information on using copyrighted Virtual Jamestown materials and how to properly cite materials found on the site, click here.

Envisionings
Indian Groups/Towns
The towns or Indian groups (usually having the same name) located on this map were taken from John Smith¡¯s Map of Virginia. Smith created the map in 1608 from two voyages he took up and down the rivers that feed the Chesapeake Bay.
Working under contract to Virtual Jamestown, geographer Mike Smith and students at Salisbury State University employed a ¡°rubber sheet¡± technique to fit the towns onto a modern map of Virginia. During the 2007 fall semester, students in Crandall Shifflett¡¯s undergraduate research history class at Virginia Tech collected data on 16 Indian groups or towns: Accomack, Accohannock, Arrohateck, Chesapeake, Nansemond, Kecoughtan, Kiskiack, Monacan, Mannahoac, Nottaway, Meherrin, Patawomeck, Powhatan, Rappahannock, Weanock, and Werowocomoco.
Towns were chosen primarily on the basis of the quantity of data available on Smith¡¯s towns. Students used research data from the Virginia Department of Historic Resources and secondary sources. In addition, courtesy of a special Google Earth (GE) Education Initiative (GE provided each student in the class with a license to Google Earth Pro), students could add their findings to the map. GE Pro allowed students to create pop-up windows of information on their assigned group according to a template with the following features: name, alternative names, meaning of name, geographical coordinates, distance from Werowocomoco, population with dates and sources, language group, link to report(unavailable), and notes.
We have compiled them into a single kmz file (Google Earth file).
To view the content of the file, you first need to download a free version of Google Earth and install it on your computer.
If you already have Google Earth installed on your machine, you can simply click here and choose "Save on Disk", then open the saved file to get started. Google Earth is very easy to use. To learn more about Google Earth you can check out the Google Earth User Guide.
In addition, you can read this document to understand how geographers created the map.
---
Jamestown Envisionings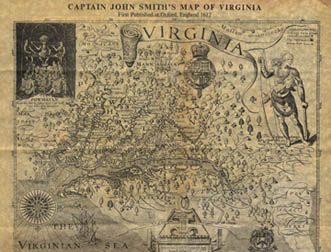 Jamestown Envisioning includes interpretive essays, recreated landscapes, patterns of exploration and settlement, visualizations of spatial and temporal history, rectified maps and charts, and the use of new technologies to analyze archival resources.